Therapy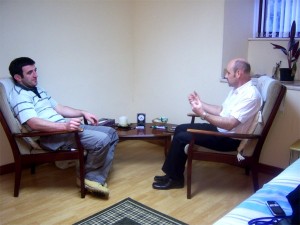 New Dawn Counselling Services
Contact
Liam at New Dawn Counselling - You can talk about any issue that is of importance to you. Liam who will arrange a suitable consultation. During the first session you will decide whether or not you wish to continue.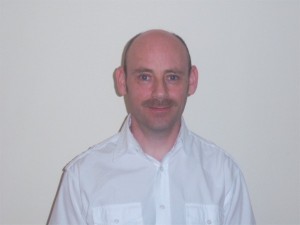 Liam has extensive training and practice as a therapist. He describes himself as a Humanistic Integrative Psychotherapist. This is a form of counselling that draws on a broad range of therapy styles.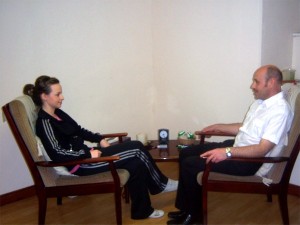 Cognitive Behavioural therapy
(CBT) - CBT can help you to change what you think (cognitive) which then affects how you feel and what you do (behaviour). Take the following scenario: 1) A friend passes you by without acknowledging you. 2) You think the person ignored you. 3) You feel hurt; your energy drops. You develop a headache. 4) In future you avoid 'A'.
But there are other ways to think which could lead to a far better result for you. For example: 1) A friend passes you by without acknowledging you. 2) You assume he didn't see you, or had something pressing on his mind. 3). You wonder if 'A' is okay, 4) You contact 'A' to see that everything is alright.
Reality Therapy
(Also considered a cognitive-behaviour therapy). In Reality Therapy you will be guided to look at your problem and identify the ideal solution, i.e. you constantly argue with your partner. The arguing goes nowhere. You are both tired of it. In reality therapy you will be asked questions such as: How do you want this to work out? What would the ideal solution be? The focus will be on empowerment by helping you to identify choices that will lead to more positive behaviour.
Solution Focussed Brief Therapy
The primary approach of this therapy is to help you to resolve a short term situation such as a problem that arises at work. You will be helped to view a current situation from a wider context in a way which is less concerned with how the problem arose than with identifying the current factors which are sustaining it and preventing change. Thus empowered, you will feel able to set your focus, instead of on the problem issue, onto goals that better meet your needs.
Gestalt Therapy
Fritz Perls, the main originator of Gestalt Therapy said that this approach is 'not just occupied with dealing with symptoms of character structure, but with the total existence of a person'. The emphasis then is on self awareness, on your discovering more fully who you truly are and thus assuming personal responsibility. With this type of therapy the problem becomes not so much a problem but a signal for greater self awareness and development.
Psychodynamic Therapy
Here you will be learning about the impact your early childhood has had upon your life. Treatment, then, involves discussing past experiences and identifying the ones that have led you to your present situation.
For example: You come for therapy because you are so often unwell, and are unable to sustain long-term relationships. During therapy you begin to see that: As a child from a large family you often felt ignored unless you were sick and then you were the centre of attention with lots of hugs and treats. You surmised from this that you were only loved when you were sick. Now, as an adult you are often sick and needy and resent it when this fails to make you the centre of attention in a positive and loving way. This recurring sickness and resentment is creating real problems in your relationships.
Through recognition of the fact that your past and present behaviour has simply been a matter of sub-conscious choice, you will now be free to take conscious responsibility for your future, making, if you choose, positive and life-enhancing decisions based upon the wisdom that lies within every one of us.
'When we bring what is within us out into the world, miracles happen'.


Henri Thoreau 1817-1862
Clinical Supervision
- Liam provides clinical supervision to trainee and qualified counsellors / psychotherapists. However it is becoming recognised by many other professionals as an essential part of personal care and many professionals from other disciplines are currently seeking regular, ongoing supervision.